Description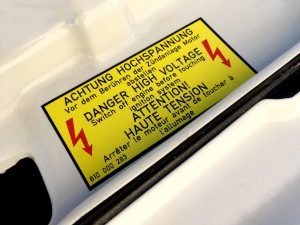 Danger High Voltage Decal – 810 000 283 – Fits Mk1 & Mk2s
Meister Werks Danger High Voltage Decal – 810 000 283 / 810000283 are printed on high quality vinyl with a thermal epoxy resin based ink printer. The epoxy thermal ink we use will not fade and is light chemical resistant. They will not scratch or degrade (with normal use) over the life of your vehicle, guaranteed. These recreated decals are measured down to the nearest millimeter. This ensures exact OEM size, fitment and look for your project. OEM colors are swatch match and will represent the original decal. The look and colors are so close you will not be able to tell which one is OEM and which one is not.
Check out the other decals on our site locatedë_here.
If you have a question or need something you don't see,ë_Email us. Please provide a square photo with measurements. Taking a photo with a tape measure next to the decal is prefered.
Part Number: 067000363D / 067 000 363 D